This module consists of "Healthy Conversation Skills", an established, evidence-based approach to supporting behaviour change. It complements the first 2 modules by offering a guided, skills-based approach to enhance communication and support behaviour change. A 'healthy conversation' is one that supports an individual to explore their own world or context, identify solutions from within, and plan first steps towards changing a health behaviour. This approach comes from an empowerment perspective, recognising that when an individual comes up with their own solution they are more likely to take ownership of it – making it more likely to be maintained over time.
The approach was originally developed by a multi-disciplinary team to address the barriers to changing health-related behaviours among women with young children in Southampton, United Kingdom (UK). It has been shown to improve health behaviours and has been adapted to suit a wide range of health and social care settings across the world.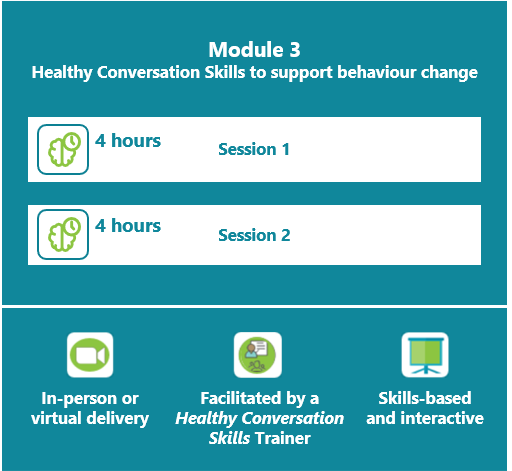 Module 3 is a scheduled training offered in-person throughout South Africa as well as virtually.
Module 3 is delivered by qualified ImpENSA HCS Trainers, and therefore incur an administrative fee of R650.
It is highly recommended to complete modules 1 and 2 before signing up for Module 3.
If you are interested in Module 3, please complete the following form and we'll inform you when the next training event is happening in your area.


Completing this form does not mean you have to commit to the training fees yet, it is simply to indicate your interest so that we can find a training event that matches your preferences.
If you are interested in organising a training event for a group of participants, kindly send us an email at info@impensa.co.za.


This module aims to:
• Improve your skills to support behaviour change using the 'Healthy Conversation Skills' approach.
• More specifically, and to complement Modules 1 and 2, equip you with the skills to empower pregnant women and caregivers to change their health behaviours to optimise micronutrient nutrition during the first 1000 days.
Learning Outcomes
After completion of this module, you will be able to:
• Reflect on your own health practice and conversations
• Apply a "Healthy Conversation Skills" approach to better understand other people's worlds, particularly to explore preconceptions about micronutrient nutrition
• Support someone to set goals and plan for behaviour change
• Promote micronutrient intake during pregnancy, exclusive and supplementary breastfeeding, and complementary feeding
• Demonstrate a commitment to empowering others to identify their own solutions in your daily practice as a healthcare professional

Healthcare Professionals


South Africa or similar settings

Certificate of Completion
To receive your Certificate of Completion, you must actively participate in both sessions of Module 3.

This module is accredited by the Health Professions Council of South Africa (HPCSA) for 8 CEU's.

For any questions or queries about Module 3 training events, please send an email to info@impensa.co.za.