Behaviour plays an important role in the health and well-being of people. As healthcare professionals, working on the frontline of healthcare, we have the opportunity to support patients to take a first step towards better health and well-being. What a privileged and potentially influential position that is. But how well do we utilise those opportunities?
Research shows that peoples' behaviour patterns are influenced by individual, social, economic and environmental factors. Better understanding of these factors (individual and wider determinants of health), is crucial, as it provides the context to current behaviour practice and possible resistance to change. It is equally important to understand what underpins behaviour and how best to support individuals to change.
Traditional methods of bringing about change, for example giving people information or telling them what they should do, are not always effective. This module emphasises the importance of centring patients in decisions about their support and introduces you to the theories and guiding frameworks that underpin effective communication to support behaviour change. After completing this eLearning module, you can progress to the Module 3 to advance your skills to support behaviour change.
Click the button below to start Module 2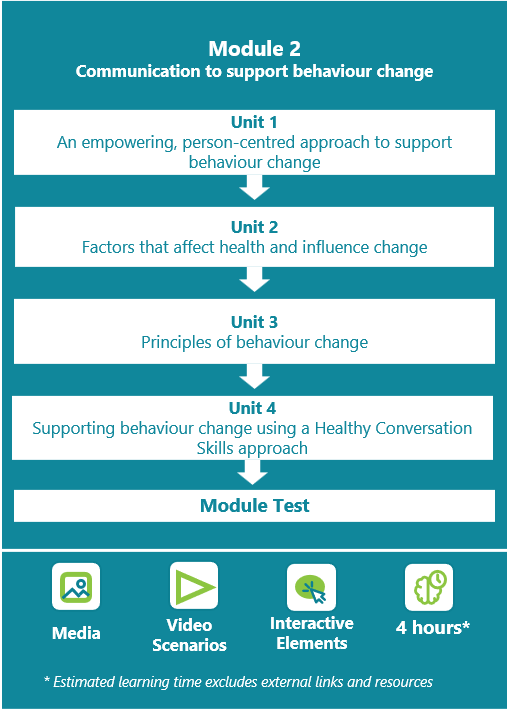 Module aims and learning outcomes
Aims
This eLearning module aims to increase knowledge about the theoretical concepts and guiding frameworks that underpin effective communication skills to support behaviour change. We emphasise the importance of adopting an empowering person-centred approach and equip you with the relevant knowledge to support mothers, families, and caregivers during the first 1000 days to change their health behaviour.
Learning outcomes
After completion of this module, you will be able to:
• Utilise an empowerment person-centred approach to support behaviour change.
• Describe the determinants that impact health and explain the factors that influence nutritional status and health behaviour in South Africa.
• Describe behaviour change theories that explain behaviour and how they inform behaviour change support.
• Demonstrate knowledge about Healthy Conversation Skills with which to effectively support behaviour change.


Target learner

Healthcare Professionals

South Africa or similar settings
Certificate of Completion
To receive your Certificate of Completion, you must successfully pass the Module Test, which can be accessed following completion of all 4 units.

This module is accredited by the Health Professions Council of South Africa (HPCSA) for 4 CEU's.